Portal 2 was the first computer video game to be rated fully compatible with Steam Deck
Last year, Valve announced that Steam Deck games would be divided into four compatibility categories - Portal 2 was the first.
Last year, Valve announced that computer video games for Steam Deck will be divided into four compatibility categories, the highest of which will be awarded only to those that pass manual verification and will run without any problems.
Thanks to SteamDB, we now know that Portal 2 has become the first game that the company has officially recognized as fully compatible with its upcoming device.
To make it easy for users to identify such game projects, they will be marked with a special icon. Steam itself doesn't have it yet, but the compatibility score is already displayed in the game information in the store's database. SteamDB creator Pavel Dundik also added a corresponding die to the Portal 2 page and a filter to the platforms section for instant search.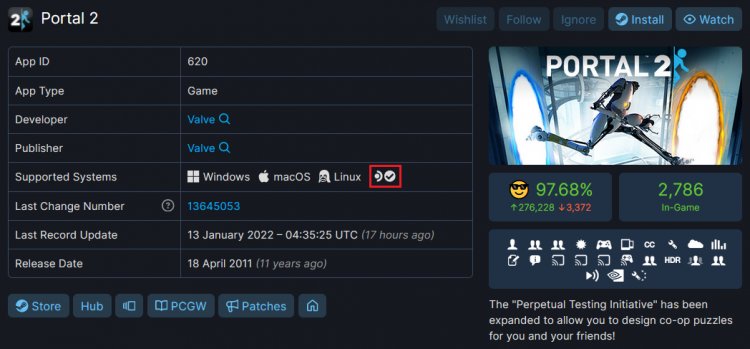 I've added Steam Deck compatibility info on app page, and under platforms in instant search for filtering.

Will figure out other places as times goes on and there's more apps with compat info. https://t.co/abWyhhdQii pic.twitter.com/vXz0Pwzime — Pavel Djundik (@thexpaw) January 12, 2022
Valve also plans to adapt some of its other games to the Steam Deck, including Counter-Strike: Global Offensive, Dota 2 and the Half-Life series. According to the recent findings of the ProtonDB portal, more than 80% of the 100 most popular games on Steam are already running on the Steam Deck, but Valve warned that the console will not be able to run the entire library at launch, since each game requires an individual compatibility check. The evaluation of the entire catalog will be carried out constantly, and the status of individual games may be changed over time after the developers release updates or fresh versions of the Steam Deck firmware.
Steam Deck shipments of the first pre-orders are due to begin next month.
What's Your Reaction?